Belt and Road: Connecting China and the world
The Belt and Road Initiative is an ambitious development strategy proposed by Chinese President Xi Jinping in order to boost trade and economic growth between China and the rest of the world.
Building on the ancient trading routes of the Silk Road, the plan calls for massive investment in and development of trade routes in the region, particularly in infrastructure. Some $900bn of investments, financed by a variety of Chinese or China-backed banks and credit funds, are projected. By building a modern network of railways, roads, pipelines, and utility grids linking China with countries across Asia, the Middle East, Europe, and Africa, China wants to make cross-border trade easier in the future.
Belt and Road (B&R) comprises more than physical connections. It aims to create the world's largest platform for economic cooperation, including policy coordination, trade and financing collaboration, and social and cultural cooperation. It is about establishing trading partners for the future, but the strategy also underlines China's push to take a larger role in global affairs.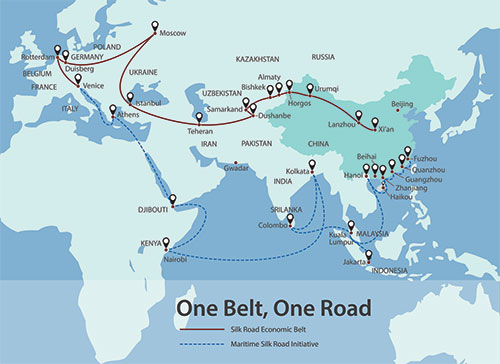 The Belt and Road initiative has two main prongs: one is called the 'Silk Road Economic Belt' (the belt) and the other the '21st Century Maritime Silk Road' (the road). A Chinese report released by the China International Trade Institute in August 2015, identified 65 countries along the Belt and Road Initiative, but it should be taken as an open platform for all parties that are willing to contribute to global connectivity. No official list of participating countries has ever been announced.
As part of the Belt and Road initiative China has been steadily increasing its presence in Eastern and Central Europe. In 2012 it created the "16+1" mechanism, a platform where the Chinese prime minister meets with the leaders of 16 countries including EU members such as Poland, Hungary, Bulgaria, Slovenia, and the Baltic states, as well as non-EU members including Serbia, Albania, and Montenegro.